| | |
| --- | --- |
| Date: | 2008-11-02 16:51 |
| Subject: | PBR Squee!! |
| Security: | Public |
I don't post all *that* much about bull riding here, just because I realize that the portion of my reading audience (to use the term incredibly loosely) that is actually *interested* is, well, about three people. I love it like crazy, but I don't want to be a bore and there's only so many times I can say "OMG ZOMG Cowboys, squee!!"

But squee I must today because the PBR World Finals (this weekend and next) are proving to be tremendously exciting and awesome. So if you're not interested in tales of heroic self sacrifice, bravery, danger, and really really pretty guys in chaps, just scroll on.



There are a few different titles being competed for here at the PBR World Finals. And I, of course, have opinions on all of them.


PBR 2008 World Champion
I want Guilherme Marchi to win. He's been the most consistent rider all season long, with a riding percentage of 74%. That means almost 3/4s of the time the gate opens and he goes out on a bull, he stays on for 8 seconds. To put that a little bit in perspective for you, the rest of the top 45 riders have ride percentages ranging from 33-66%. He's head and shoulders above the rest of them. He led going into the World Finals each of the last three years, and was beaten during the finals every time. I'll be crying with Guilherme if he doesn't win this year.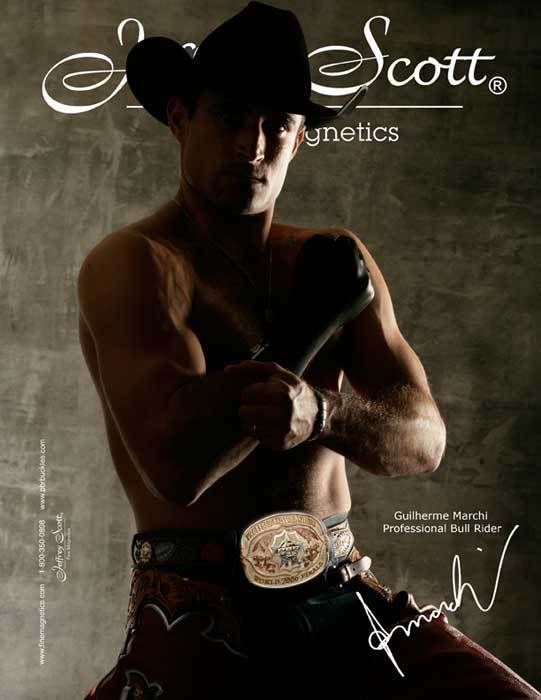 2008 World Finals Event Winner
This is the second most prestigious title on offer in Las Vegas right now. There are so many guys I'd be happy to see win the event:
♠ JB Mauney's absolutely on *fire* right now and I'd be thrilled if he won the event. For one thing, if he continues winning the event, they'll continue interviewing him. And we'll continue getting to *see* him on the TV. JB Mauney has a mouth made for sin, gorgeous cheekbones, smoldering blue eyes with long lashes, and is lean and lanky and hotter than the hinges of Hell. I'd love to see them do a lot more interviews with him.
♠ Aussie Brendon Clark's been gone for a few months (with a torn-up knee and then a broken thumb on his riding hand). He's fantastic at riding the very rankest and toughest bulls, tremendous fun to watch ride, gorgeous, and he has a sexy Australian accent. I'd love to see lots more interviews with him too.
♠ Kody Lostroh is a sentimental favorite for me in almost *everything*. He was the first cowboy I knew by name and recognized and rooted for. And he seems like a real nice guy. And he ties his riding glove on with a leather thong, which is hotter than the hottest thing ever.
♠ Renato Nunez is one of the most exciting riders to watch, and just a hell of a lot of fun. I'm thrilled for him that he's gotten a sponsorship from Enterprise Rent-a-Car (the first Brazilian on "Team Enterprise", as far as I know). I'll give you an action shot of Renato, because he's so much fun to watch when he's riding (and he's not as pretty as some of the others, though he's got a great smile).
♠ I'd also be happy for Mike Lee, Wiley Peterson, Valdiron de Oliveira, Adriano Moraes, LJ Jenkins, Chris Shivers, Dustin Elliott (though only if he promises to lose the banana yellow chaps) or any of half a dozen others to win too.
2008 Daisy Rookie of the Year
For most of the season, I've been rooting for Pistol Robinson for Rookie of the Year on account of him being cute as a bug. He's actually 24, but looks young enough that his mum has to drive him to the arena every week. He also seems like a pretty cool guy. But over the last few months, Reese Cates has been posting regularly to the PBR blog and in getting to know him a little bit, I'd be really happy if he won too. (Though Reese needs someone to tell him that barf green is a bad color for chaps *and* that it goes exceptionally poorly with a chartreuse shirt.) I'd also really be happy if Ryan Dirteater won because he's got the best name *ever* for a bull rider and he's absolutely adorable in an "I could be his mother" way. I've got pictures of Pistol and Reese, but couldn't find one of Ryan.
Pistol:
Reese (in the chartreuse shirt, the new chaps are way worse than these, and I never liked these):
2008 Bull Of The Year
There are five contenders for Bull Of The Year: Troubadour, Bones, Copperhead Slinger, All In and Spitfire. Of those five, I want either Troubadour or Bones to win. Troubadour has been my sentimental favorite for most of the year (the first event I saw, I watched Kody Lostroh ride him for 92.25 or so points). Lately, though, I've been tremendously impressed with Bones. For one thing he's thrown Justin McBride (arguably the best rider in the sport right now) twice--not many bulls have that feather in their cap. I can't find a picture of Bones in an hour of (quite pleasant) trying. He's a big scary looking black bull with a white face and I'm really getting quite fond of him.
Troubador (with Kody Lostroh):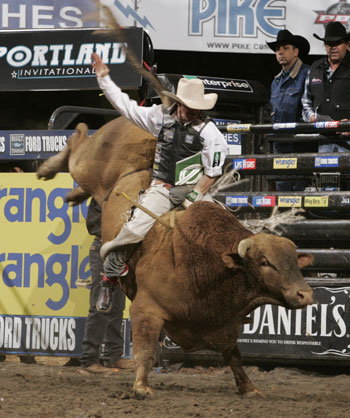 Okay, so that's the various competitions at the World Finals and where I stand on them. On to the other main topic of this post.
The Bullfighters
I'm also absolutely delighted that Versus, in their broadcasts of the PBR events, have been paying more attention to the bullfighters. I thought it was just *me* paying more attention to the bullfighters, because I love them so dearly, but now I'm pretty confident that Versus is showing more of them. And making a point to show off how amazing they are.
There are (at least) four bullfighters at the World Finals: Shorty Gorham (who I'll admit to having more than just a little bit of a thing for), Frank Newsom, Joe Baumgartner, and Shane "Mad Dog" Simpson. I've seen all of them in the first two rounds. Shorty, Frank and Joe are the core of the Built Ford Tough Series bullfighting team, though Mad Dog is the first alternate to step in when one of them is injured. He was in for a month and a half or so in the spring when Shorty was out with a broken vertebra and was in for a while in the late summer/early fall when Joe was out with "injuries" (nonspecific).
Bullfighters are the most incredible athletes. More so, in my opinion, than the bull riders, though the riders are damned amazing in terms of core body strength, arm strength, balance and flexibility. And oh the happy happy thoughts that little litany is giving me... ::fans self:: ::koff:: Sorry, anyway, the bullfighters have all of that, plus quick reflexes, and the kind of big, giving heart that has them jumping in front of 45 BIG bulls a night to protect other people. Athletically, they're amazing, but it's the spirit that blows me away.
Joe Baumgartner (40 years old, so basically my age) has broken the orbital bone of one eye, broken one ankle multiple times, broken his jaw multiple times, broken his shoulder, broken every single rib, broken both wrists and most of his fingers, blown out his knee, torn up his rotator cuff and punctured a lung. All to keep bull riders from getting hurt. Shorty, Frank and Mad Dog (and I'm sure other bullfighters as well) have a similar roll call of injuries.
Last night, Joe was pretty badly hurt by one of the bulls--he was stomped on and his already bad ankle is either broken or dislocated. At the regular-season events, there are three bullfighters in the arena, plus Flint Rasmussen the barrel-man/clown who helps out with the bulls too. There have been four for the World Finals. So they'll have to bring in whoever the alternate is. It's probably going to be Darrell Diefenbach who I haven't seen much of and don't know much about. I hope they say who the bullfighting team is when they start the broadcast tonight.
Sportswriter Rick Reilly spent some time with the bullfighters of the PBR and he wrote a fantastic article about them.
Click here to read it, and you totally should. Please. For me.
Here's a 5 minute video of an interview with Joe, where he talks about his work and what he does in a typically self-deprecating light. But it's still nice to see. :D
So there's my PBR squee for the day. Ande and I are both DVRing the third round (of eight) of the World Finals to watch this evening, so no spoiling in the comments please if you have seen round 3. Unless you have word on how Joe's doing, that'll I'll take being spoiled about.
I'm going to post this publicly because PBR is definitely one of my fandoms and, consequently, this counts as a fannish post. :D